Plan a Field Trip
Bring your students to The National Civil War Museum to enhance their study of the Civil War and its legacy. Your students will learn about the causes of the war, the battles and the people who fought them, and the legacy of the war that still affects us today. They will tour our exhibitions in groups and may participate in a scavenger hunt activity designed to keep them engaged and on-task. Additionally, we offer hands-on educational presentations that align with Pennsylvania (SAS) and Common Core Standards. Every presentation can be customized to suit students of all ages and ability levels. 
Allow Sufficient Time for Your Tour
We estimate that school groups should allow at least two-to-four hours to actually tour the Museum. If you are bringing a large group to the Museum, you should divide your group into sections of approximately 25 students or less, with the appropriate number of chaperones. With such large groups, one section begins their visit in the galleries, while the remaining sections listen to a presentation by our education staff. An additional section is sent into the galleries approximately every fifteen (15) minutes. Please allow sufficient time for this staggered entry into the Museum galleries.
Finding History
One of the most effective ways to actively involve your students in a visit to the Museum is to have a list of questions that they can answer as they view and listen to the exhibits. We highly recommend that you develop your own list of questions, based on your lesson plan for the Civil War. It would be best if the questions require the students to (1) read captions, (2) listen to taped narrations, (3) view videos, and (4) examine artifacts. In preparing your questions, you should always note on your copy where the answer can be found in the Museum.
Educational Presentations
The National Civil War Museum's educational staff will speak to school groups about various Civil War topics. They will bring history to life and supplement the Museum exhibits. With prior arrangements, they can provide presentations on specific topics that relate to your lesson plan.
Videos, Maps and Mannequins
In addition to an outstanding collection of artifacts, The National Civil War Museum incorporates high-resolution digital videos, sound and light shows, and life-like mannequins in dramatic and emotional presentations. These varied audio-visual presentations are an integral part of the Museum's exhibits that are sure to keep your students attention.
Bus Parking
Free on-site parking is available for all visitors. Limited access is also available for RV's and motor homes. There is no overnight parking permitted. Buses, please use the Market Street entrance to Reservoir Park and the museum.
ADA Compliance
The Museum is fully accessible for people using wheelchairs and motorized scooters. Elevators service all public areas in The National Civil War Museum, and seating is available in the galleries.
Shop
Yes. We have items for children and adults and a large selection of books related to the Civil War and its aftermath for sale. You can visit our store online here.
Food Service
The museum does not have in house food service. Adult and school groups can arrange for catering prior to their visit, and we do have limited space available for lunch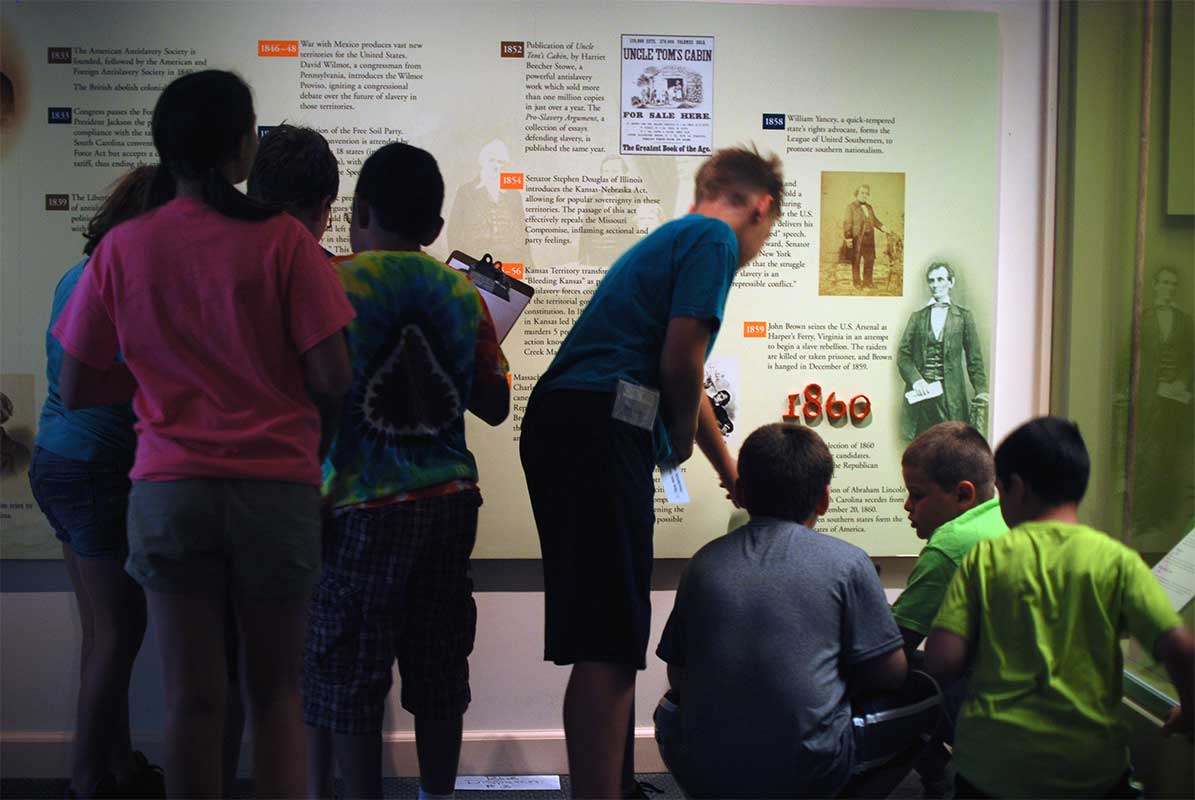 Hands-On Programs
You can add one of the following programs to your museum visit to enhance your student's visit. Please ask our staff for more details.
The Life of a Soldier
Why did Civil War soldiers fight shoulder-to-shoulder? You mean there's more than one use for a bayonet? How are armies organized? Students will be introduced to the day-to-day life of a soldier accompanied by reproductions of uniforms, equipment, and weapons. This incredibly popular presentation goes beyond traditional Civil War curriculum and prepares students to be more educated viewers in the museum galleries.
Slavery: From Jamestown to Appomattox
This presentation discusses slavery in the United States from its beginnings to its end. Included in the presentation are: the economic and political forces that caused and perpetuated slavery, the work of abolitionists, and the military contributions and achievements of African Americans in the Civil War and postwar eras. This presentation is more suitable to high school and advanced audiences, but can be specialized to focus on specific regions and research or learning interests.
The People From Your Town or Region
Hear what the war was like for soldiers from your local community. What did they see? Where did they fight? What were their lives like? How many made it home? Your questions will be answered in this presentation.
Battles & Campaigns of the Civil War
Get the full story on any Civil War battle or campaign from the well-known (Gettysburg) to the lesser known (Confederates invade New Mexico). Choose and let us tell the story! Interactive maps, correspondence, images, and primary source accounts enhance these presentations.
Outreach & Virtual Lessons
We understand that sometimes it may be difficult for schools to visit our museum in person. That is why we also offer virtual field trips as an alternative. Our virtual field trips are designed to be interactive and engaging, allowing students to explore our exhibits and learn from our experts without leaving their classroom. Whether in person or virtually, we are committed to providing high-quality educational experiences that inspire and engage students of all ages.